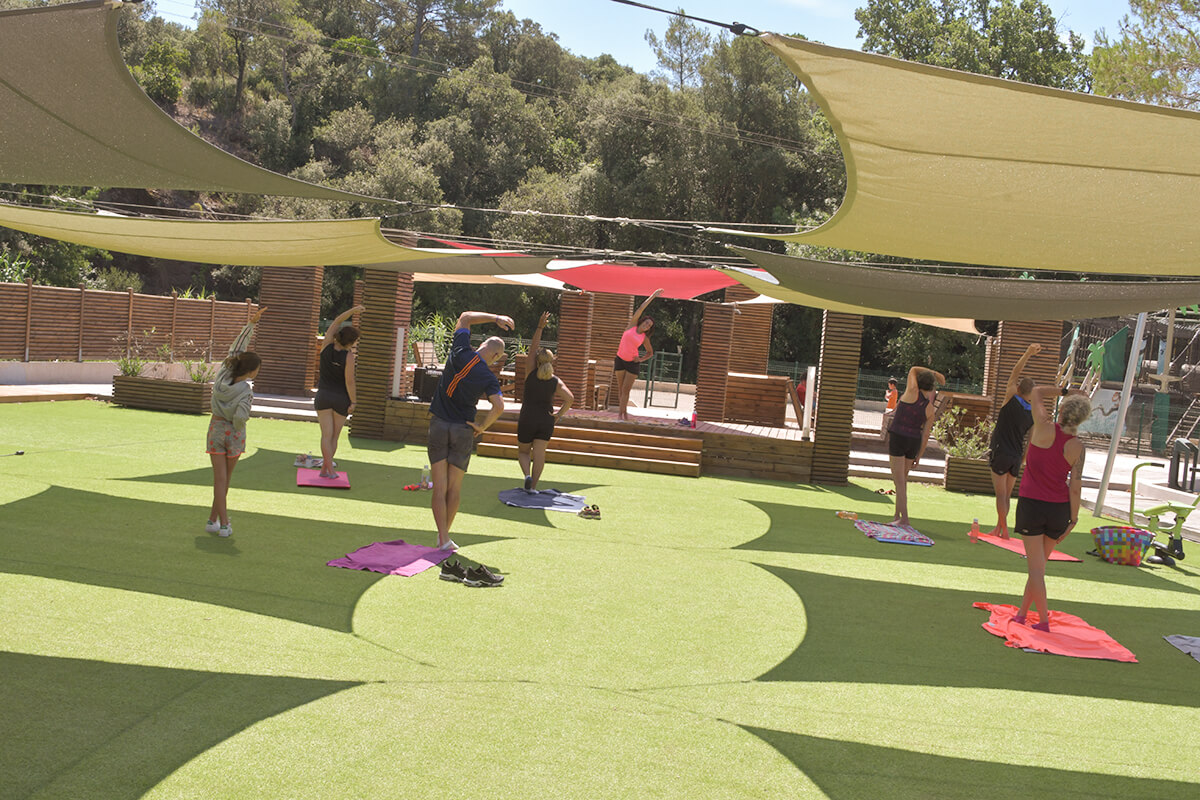 Activities at the campsite
Fun and relaxation at the La Pierre Verte campsite in Fréjus! Come and discover the #campingfun atmosphere with activities organized by a team of specialized guides. It's the perfect program for families, couples and groups! Our four-star holiday club is able to offer sports activities and games on land and water for all ages thanks to the wide range of facilities that bring the La Pierre Verte campsite to life.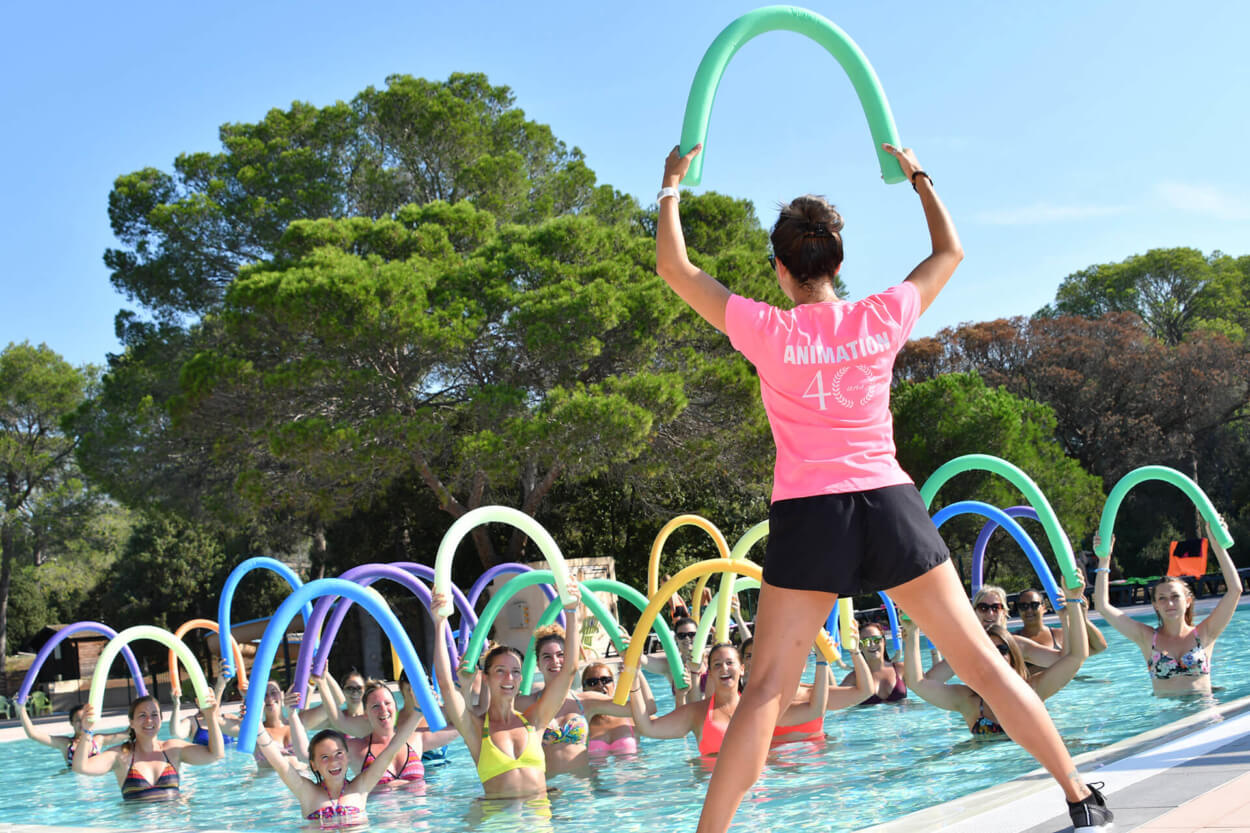 MOVE, SWIM, DANCE!
For truly satisfying holidays
A programme of sports activities is available, with something for everyone at our four-star holiday village. Zumba, aerobics, circuit training, stretching classes and more (at the activities centre), as well as aqua aerobics, aqua zumba and aqua fun in our water park, and introductory dance classes (kuduro, madison, hip hop, etc.). More "zen" sports activities like aqua pilates, tai chi and aqua sophrology are also available at the lagoon.
For team sport addicts, our team of guides is also on hand for a variety of group sports, including basketball, football, beach volleyball, beach tennis, badminton and ping pong, as well as archery, darts and water polo in the pool! We also hold tournaments for these sports, organized into a variety of age brackets. There is something for everyone!
It's the perfect time to play and make friends on holiday! The friendly and competitive atmosphere experienced during an evening game of boules at the activities centre boules pitch (it's a French national sport!) will be an unforgettable part of your holiday at the La Pierre Verte Campsite!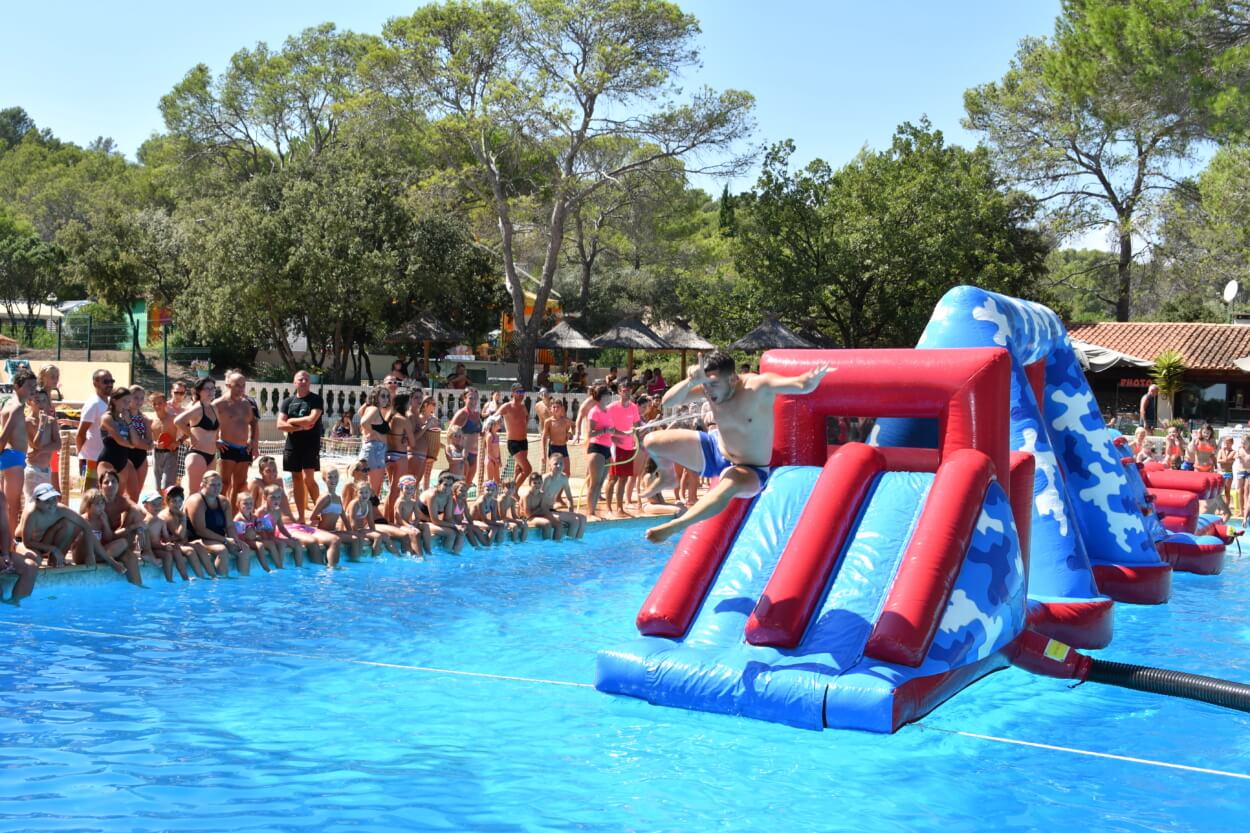 LAUGH, PLAY, DISCOVER!
Lots of fun activities are organized by the activities team, including game nights, "connected" games like egames (interactive multiple choice quizzes) and sms challenges for 11-17 year-olds with prizes. We also offer a wide variety of original activities, like an inflatable slip-and-slide with a double corridor for fun as the family, virtual reality circuits, a circus and other inflatable games like "Transformer" (at the activities centre) and the "Commando Pool Game" (in the pool)!
There are also introductory classes in photography (technical and artistic approach followed by practice with your own camera) and beekeeping (a "Pierre Verte" honey is made on site at our campsite by a local beekeeper). Every year, a new theme is organized to add something new.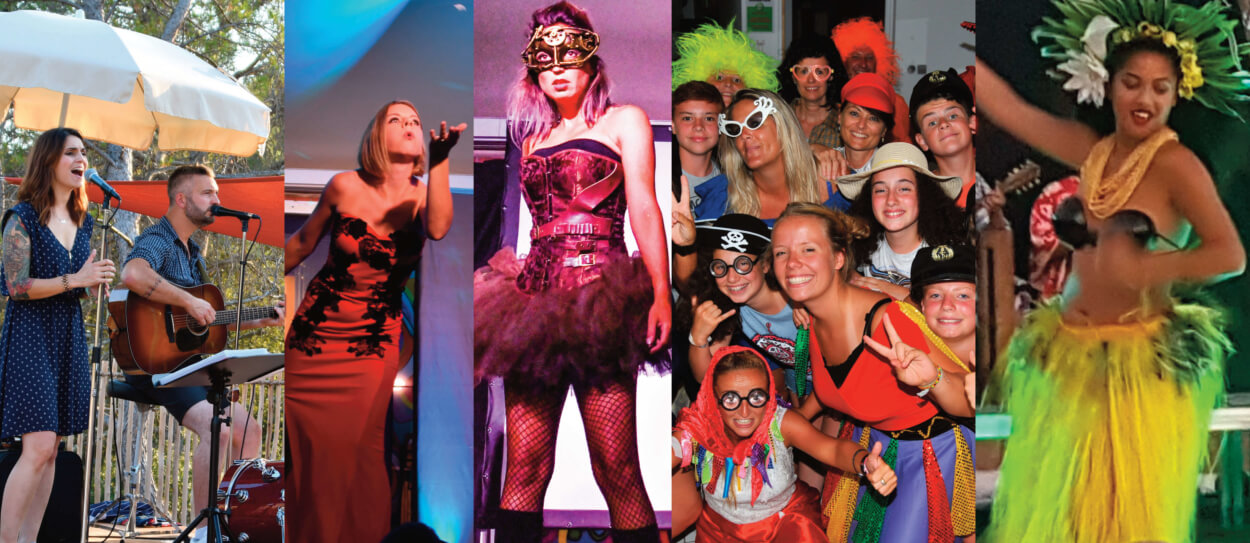 SUMMER PARTIES FOR UNFORGETTABLE HOLIDAYS
From April to September, our Pierre Verte activities team offers a varied programme of night-time events held on our stage facing the Lou Gaudina restaurant terrace, as well as a handful of early-evening events on the banks of the beach lagoon, like the Apéro Potes early evening music events (bands and DJs). Enjoy an evening swim with music and a cocktail!  Pure summer joy!
Enjoy live concerts with bands playing lots of different types of music (funk, groove, 80s, rock, etc.)… nights organized around themes like Disco DJ or the 90s…. and DJ events with themed activities for all the family!
Every year the activities team also organizes specially tailored shows in lots of different fields, from choreography to theatre, café-theatre and dance!  With rhythm, wonder, humour and a story!  You'll also find a colourful and festive atmosphere at our cabaret and acrobatic hip hop shows for a trendy and glamorous night out. There's something for the littles ones too, with fluorescent foam parties that are guaranteed to put a smile on the face of everyone, young and old! A wide range of evening events are also held for the Kube 8.3 teenagers club (La Pierre Verte's new Teens space). We also have shows with mentalists and magicians, carnival celebrations and, of course, kids shows with your little angels (prepared in the clubs)!
Special nights for events like major football games (shown in various areas of the campsite) are organized based on the calendar, with a fun and friendly atmosphere guaranteed!
For information
The activities programme is updated with new activities every year. It is available for download in the "downloads" section of the site in high and low season, and a copy is given to each guest when they arrive. There are, of course, more activities in high season (July and August) than in low season (April, May, June and September).
The services offered by our activities team are free-of-charge. You will need to pay for certain activities offered by external contractors (circus, Laser Games, tai chi,  photography lessons, etc.) but we have negotiated special prices for our guests. These prices will be published in our paper publications and online on social media.
To find out about activities for our four kids clubs (4-17 years), please see the page Kids Clubs.
See the activities programme organized at this centre for high and low season.
Example of an activities programme :  planning aout 2