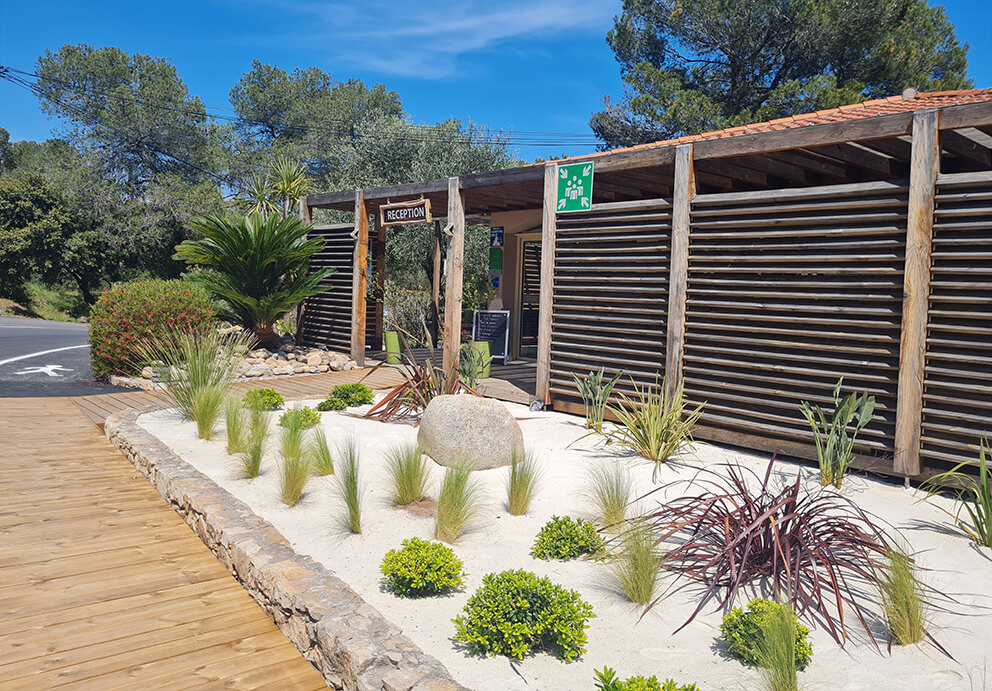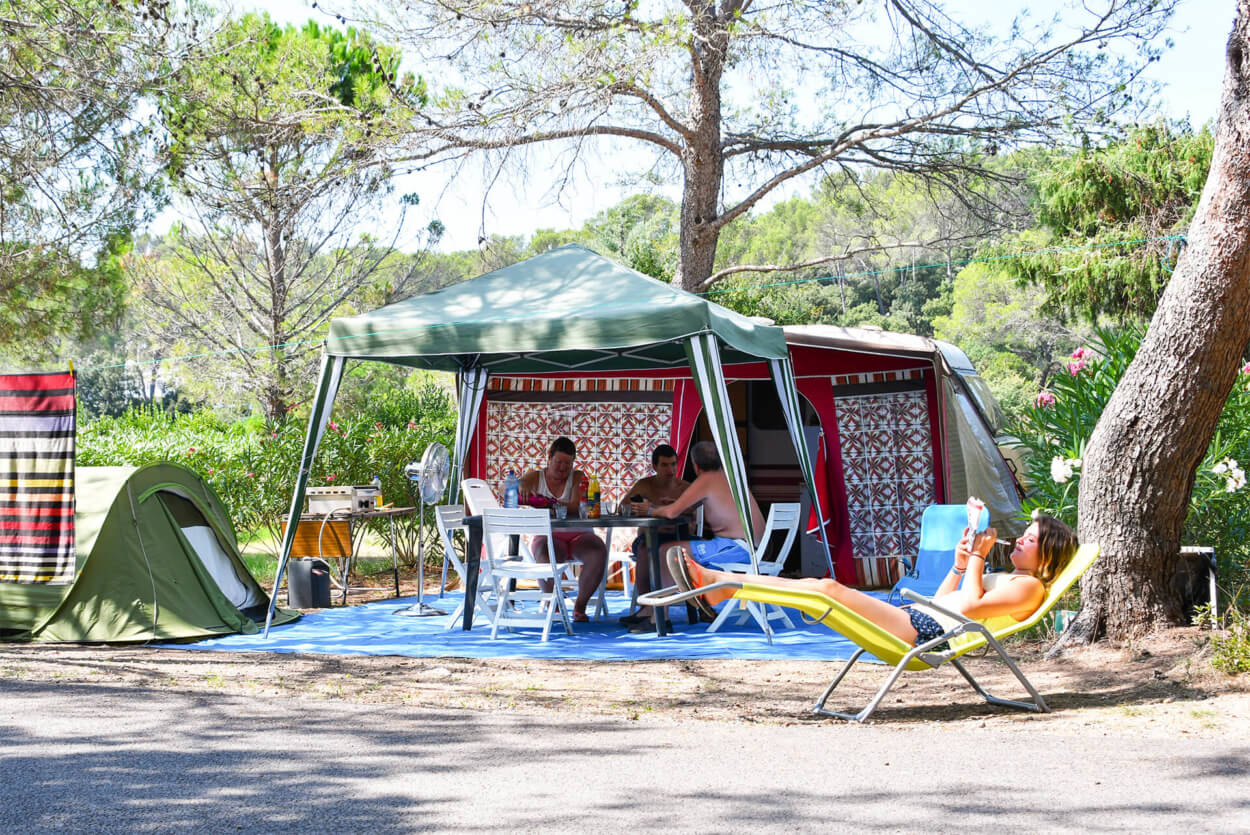 If you have booked a camping pitch
Check-in at the campsite is between 2 pm and 7 pm. After completing the administrative formalities at the reception, a member of staff will guide you to your pitch.
If you haven't booked in advance, you are free to stay as long as you like subject to availability. Please let us know on your day of departure. If you want to stay with us for longer, we will be delighted to have you! Simply confirm this with the reception team. When checking out, you must leave your pitch before midday, otherwise you will need to pay for an additional night.
If you have booked a mobile home
Check-in is between 5 pm and 8 pm. After completing the administrative formalities at the reception and picking up your keys and La Pierre Verte documents (welcome guide, programme information), a member of staff will guide you to your mobile home.  You will then be able to check the condition of the mobile home and report anything that is missing or any anomalies between your rental and the inventory which was filled in, dated and signed upon arrival (at the reception, within 48 hours of your arrival). If no anomalies are reported, the list will be considered definitive.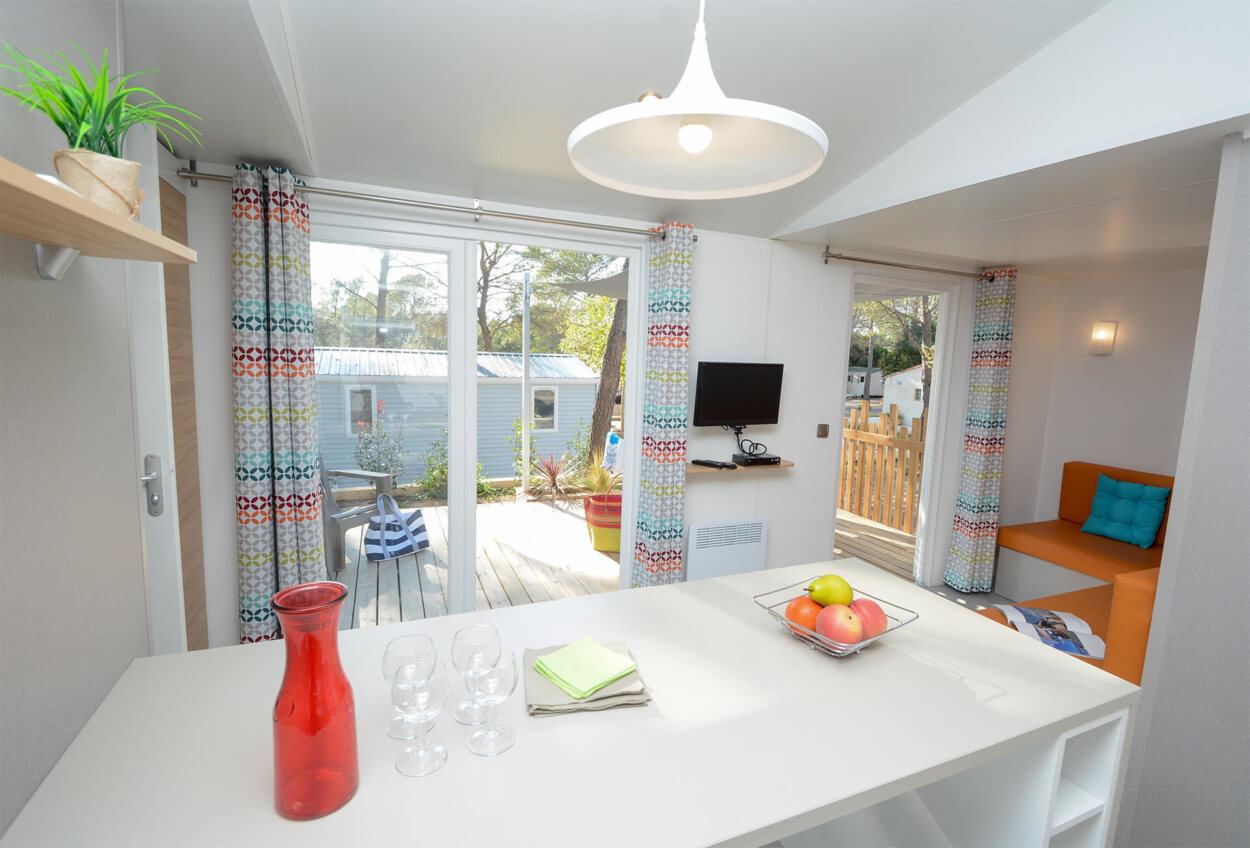 RENTED ACCOMODATION
Arrival
Check in is between 5pm and 8pm at the reception. And from 8pm to midnight at security. Please check your accommodation for any problems or missing inventory items by filling in the accommodation form.
Return your accomodation check list to reception 48h after your arrival. If it is not returned to us, we will consider that the list is complete and accepted.
The day of your departure
Please clean your accommodation and the dishes. The floor must be clean and dry.
Defrost the freezer and remove all your personal belongings. Take all rubbish to the waste disposal area, at the recycling center next to the reception.
The day of your departure, you have to hand over your keys at the reception before 10am.
In case of night departure (between 8 p.m. and 8 a.m.), please inform the reception and leave your keys at the security post (24/24).Your accommodation will be checked after your departure by our cleaning team.
Your security deposit will be cancelled provided the accomodation is left in a state in accordance with our cleaning expectations.
If you are leaving at night
If you will be leaving the campsite between 7.30 pm and 8.30 am (only for deposits paid with a bank card for cheque), please let the reception know in advance and make sure that the entire balance for your stay has been paid. Our team will check the mobile home the next day and, if everything is in order, your deposit will be refunded to your bank card or your cheque returned by post within a week.
You will need to leave your keys with the security guard at the entrance to the campsite.
Here to assist
with any technical difficulties
Got a problem with your mobile home or pitch? Give us a call or let the reception team know. We will organize a repair as soon as possible. Reception opening hours The reception is open 7 days a week, from 8.30 am to 7.30 pm (and from 8 am to 8 pm in peak season) Information: +33 (0)4 94 40 88 30
Services to make your life easier
On holiday at La Pierre Verte in Fréjus
Paid Wi-Fi access (paid service)
Post service: stamps are sold at the reception. Letters are collected every day at 10 am (except Sunday). So you can send all your postcards direct from the campsite.
Printing: paid service
Miscellaneous rentals: disposable linen; cotton linen; towel kit; baby kit with a bed, chair and bath; fridge; and tennis balls and rackets.
Items available to borrow: irons, hairdryers and power adaptors. Board games, balls, ping pong bats and boules equipment (from the activities centre in peak season).
Lost property is taken to the reception where it can be collected by owners.
Healthcare: if you need to see a doctor, please see the reception for advice (the first aid post is in the pool hut and equipped with a defibrillator and oxygen) +
Recycling: used batteries can be left in the used battery box at the reception. General recycling containers are also available.
An events board is available in high and low season (in addition to a programme provided at check-in)
Tourist information and ticket office
Our reception team will be delighted to give you tips and advice on the many different tourism sites to visit on the Côte d'Azur. Looking for a cultural site? A picturesque village? A beach or cove to explore? A routemap? We will be delighted to help you. We also have tourism brochures with the calendars of regional festivities organized by our local and regional partners (such as the tourist office).
We can also give you bus times for getting to the town, town centre and beach (July and August only). Buses leave from the other side of the road at the top of the hill above La Pierre Verte (200 m from the reception).
We also have a ticket office (with more tickets available every year): for the parks Aqualand in Fréjus, Marineland in Antibes and Les Bateaux Verts (St Maxime-St Tropez shuttle), catamaran outings with AMC Event,
Practical information
A/ We accept payment by cash, travellers cheque and bank card (Visa, Mastercard, Eurocard). We do not accept bank cheques.
B/ Wristbands must be worn to enjoy our facilities, the lagoon, the free shuttle bus and to get discounts with our partners (in high season).
C/ Our security guards will be present at the campsite throughout the night from 8 pm to 8 am.
D/ OPEN BARBECUES strictly forbidden Only closed gas barbecues with anti-spill system and European conformity are allowed, as well as electric barbecues of maximum 2000 watt for comfort pitches (10 amperes are required for its use). All barbecues must be supervised during use.
Getting to the campsite:
By car: A8, exit 38 heading towards Bagnols-en-Forêt
By train: Gare Saint-Raphaël, followed by the Line 1 bus (before 01/07 and after 02/09) or the Line 20 bus from 01/07 to 02/09 included
By plane: Nice Airport (60 km)
Opening hours
In high and low season: 8.30 am – 7.30 pm