Beaches and coves in the East Var
Right on the doorstep of the La Pierre Verte campsite in Fréjus on the Côte d'Azur, you will find some of the south of France's most stunning beaches and coves. The Var region is packed with unique seaside resorts, vast beaches and magical coves! The coast is a true treasure trove of beaches and coves set under the Azur sun that are certain to please all tastes. In the East Var, you will find Fréjus and Saint Raphaël and numerous idyllic locations for lounging, sunbathing, or having fun in the water or on the land…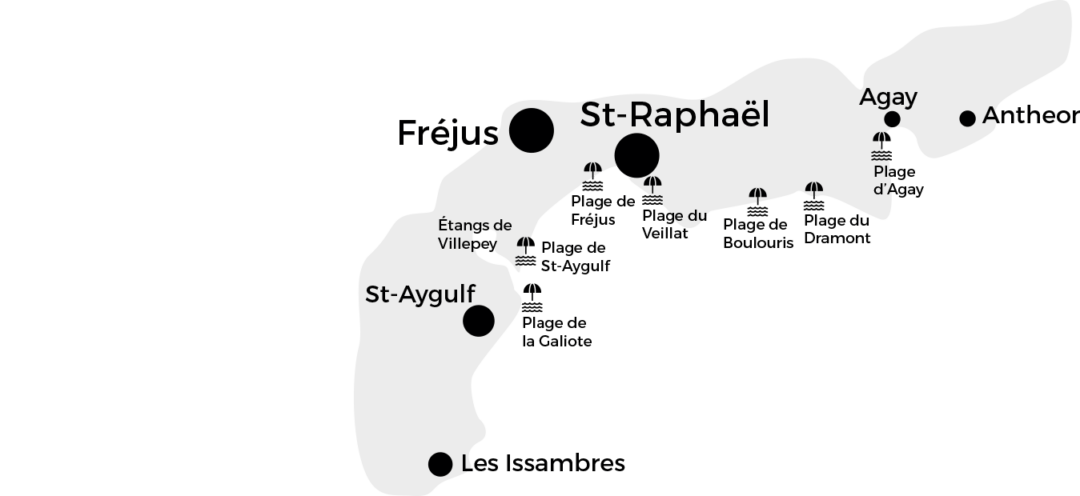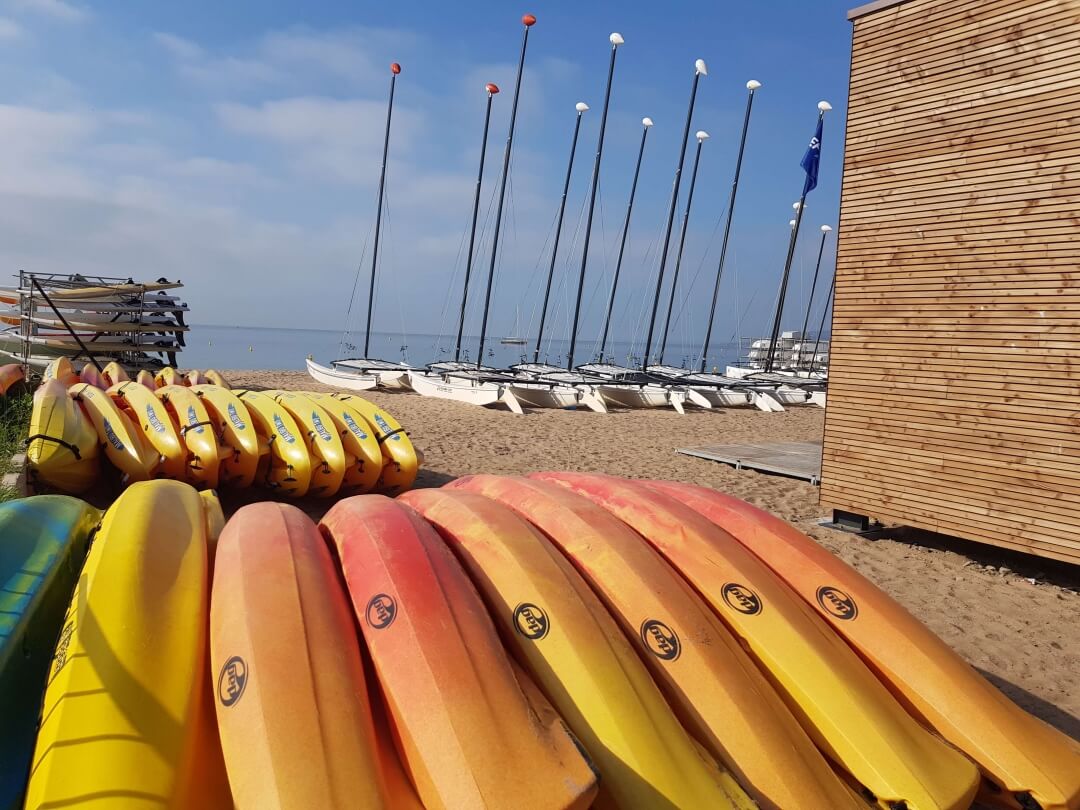 Fréjus
Beach attitude mandatory!
Fréjus' sandy white beaches are to die for. From small wild coves to vast beaches, everyone will find their own paradise. Fréjus beach spans 1 km and includes a number of public and private beaches. Beaches are supervised in the summer every day of the week, from 9 am to 7 pm. There are numerous water sports to enjoy in Fréjus, including scuba diving, fishing, jet ski trips, sailing and catamarans… for simply unforgettable holidays. And whether you want to play a sport, take a walk or have a dip, you will love the Base Nature de Fréjus. This 135-hectare public park on the edge of the Mediterranean is a breath of fresh air for all the family. From bmx to skateboarding, rollerblading, basketball and handball, with the beaches just next door, this huge park is an absolute must for locals and holidaymakers alike.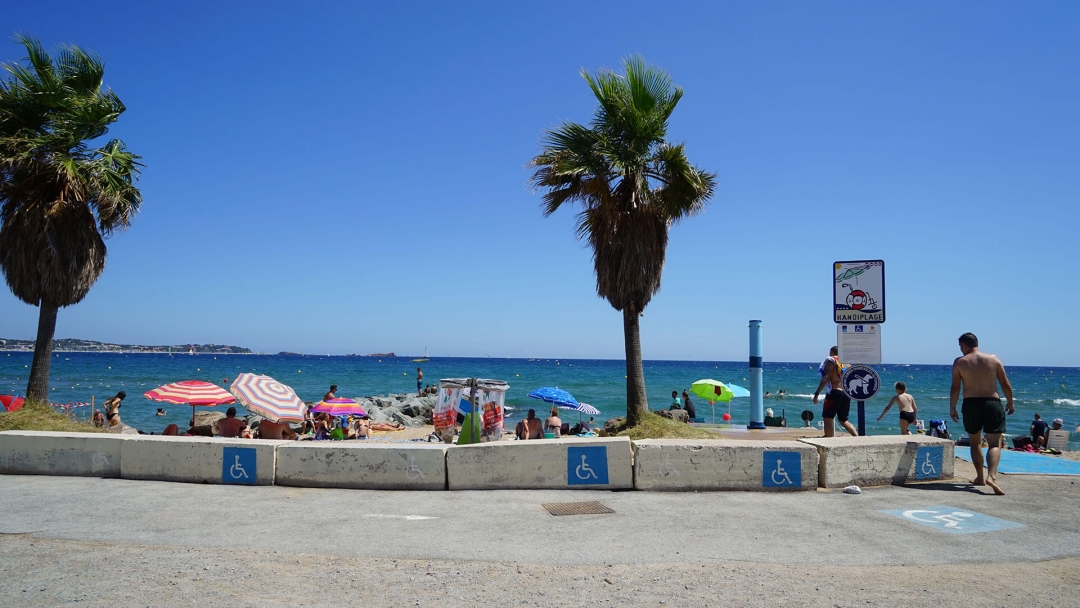 Accessible beaches
at the Base Nature de Fréjus
The Handiplage is a place for having fun together with assisted bathing facilities to ensure Fréjus' beaches are accessible to all. It includes a security post and assistance in the summer, from June to September. With volunteer accessibility assistants in June, July and August. And disabled parking spaces.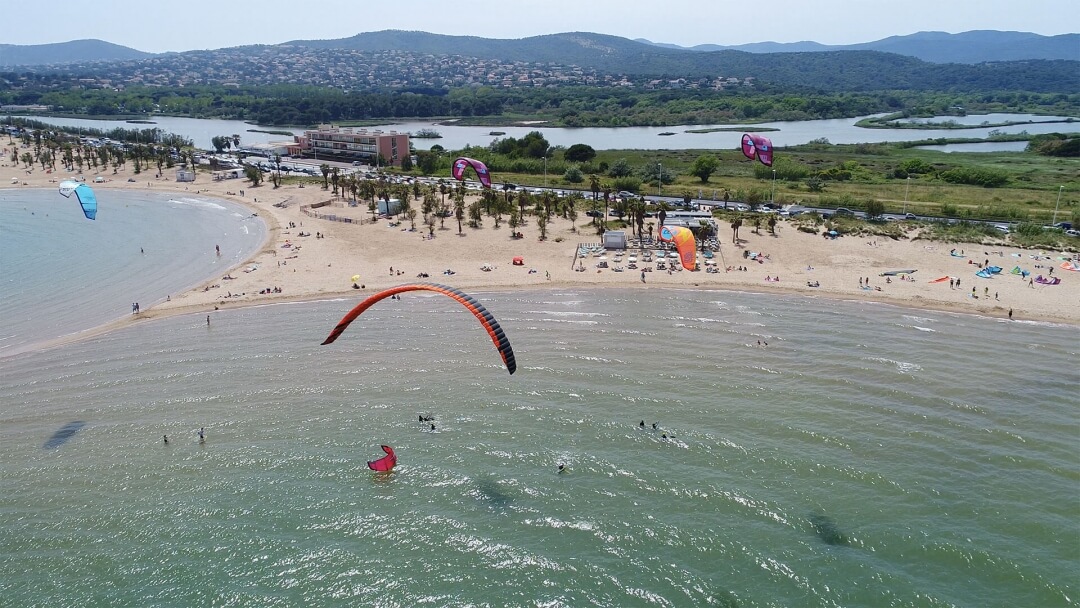 Saint-Aygulf
Magnificent beaches!
Just 10 minutes from your future Sunset Mobile Home you will find the beach of Saint Aygulf, one of the largest beaches in the East Var, spanning some 800 m. On its many beaches you can try your hand at kite-surfing and windsurfing thanks to its superb wind conditions. The Esclamandes beach is the largest, spanning a number of kilometres. It is family-friendly and a its vast size makes it a great place to visit. Saint Aygulf is therefore the ideal seaside resort for beach holidays just next to Fréjus and Saint Raphaël.
You can even bring your dog!
Dogs kept on leashes are permitted on the Esclamandes beach in Saint Aygulf and can even enjoy a dip on the condition that they are supervised. The designated pet-friendly area is in the very north of the beach.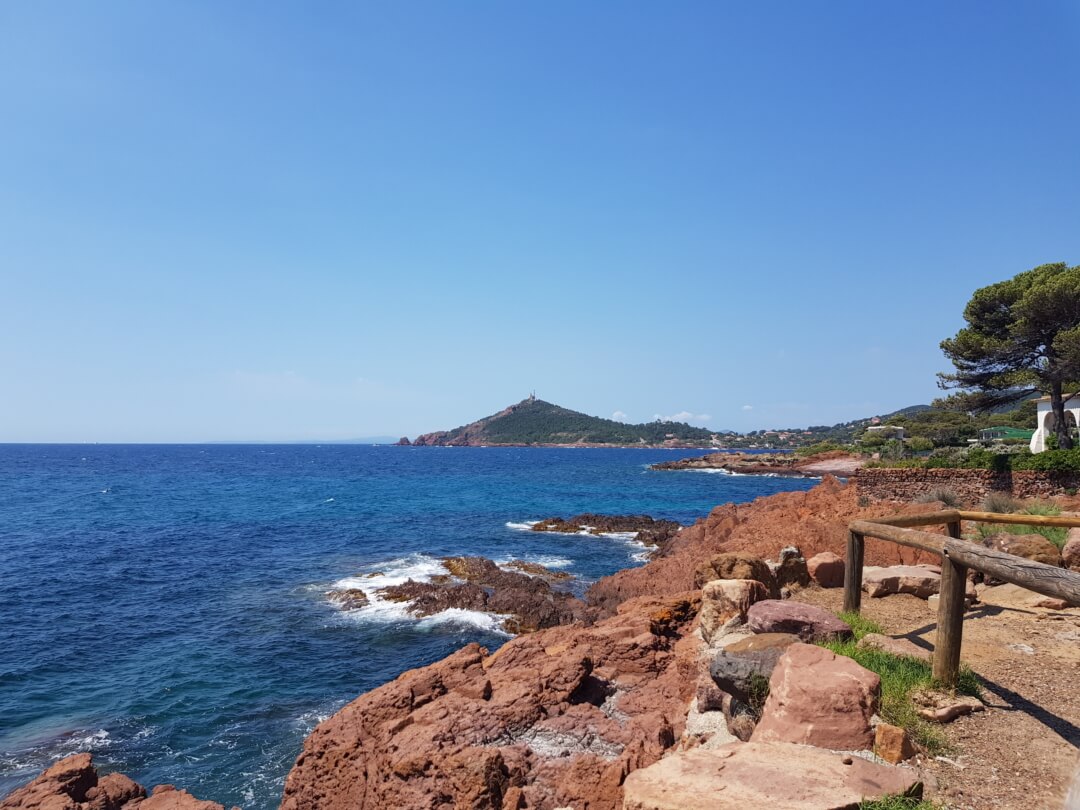 Saint-Raphaël
The Esterel's most beautiful rocky coves!
The Saint Raphaël coast stretches 36 kilometres, with 29 varied beaches!  With soft sand and pebbles, such as in Boulouris, Dramony and Agay, they are the perfect place to spend the day with family and kids.  Discover the stunning seabeds of the sheltered coves and walk the long stretches of soft sand with a simply magnificent view. Every holidaymaker is sure to find something to put a smile on their face. At the exit for Saint Raphaël, after Agay, you will find the Esterel's most stunning rocky coves, with small red-pebbled beaches guaranteed to charm in the evening as the sun goes down, painting the sky red and orange… As the turquoise water, luscious pines and red rocks create a scene you will never forget… You will never have felt more on holiday!