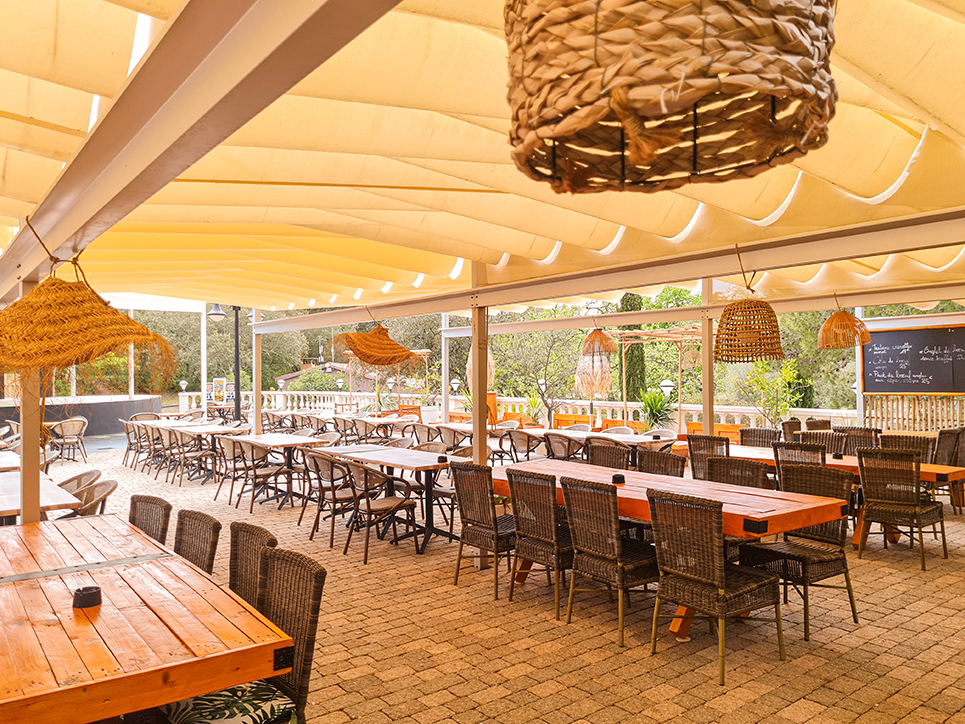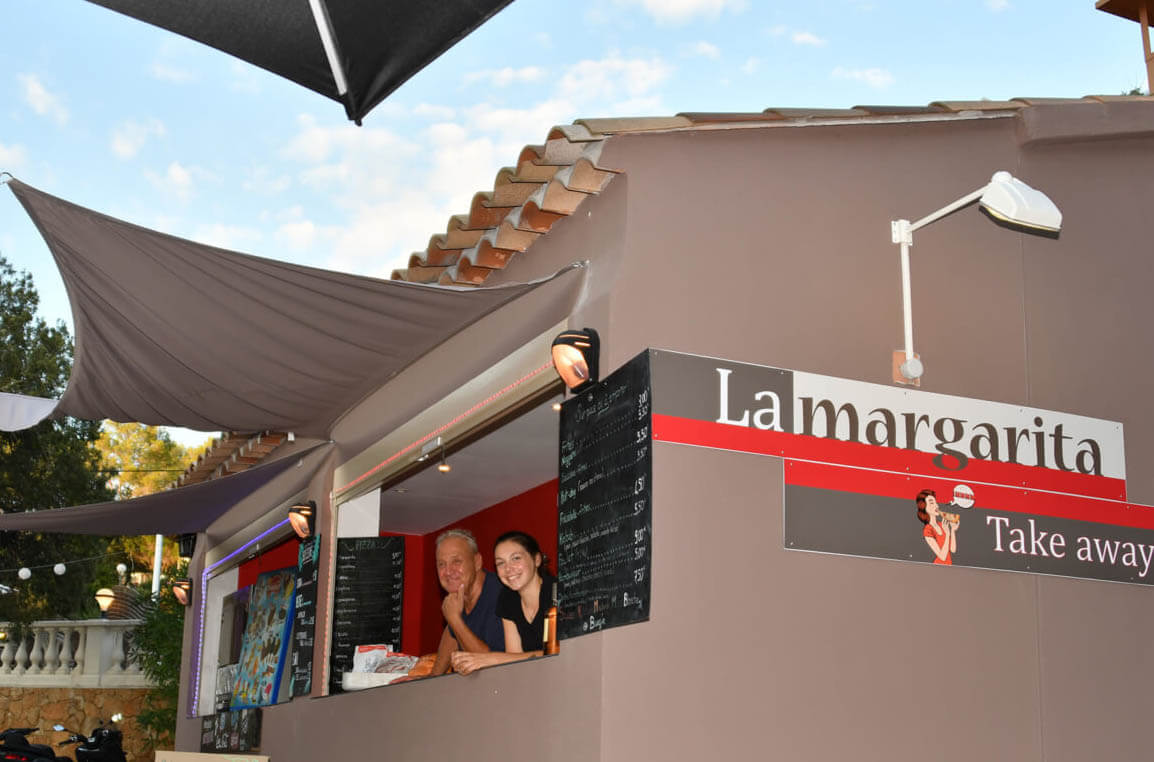 Our super handy takeaway!
If you are looking for takeaway food to enjoy in your accommodation, La Margarita is just next to the restaurant. The La Pierre Verte takeaway has a snack and pizza menu in high season and a terrace if you fancy a sweet or savoury snack on site.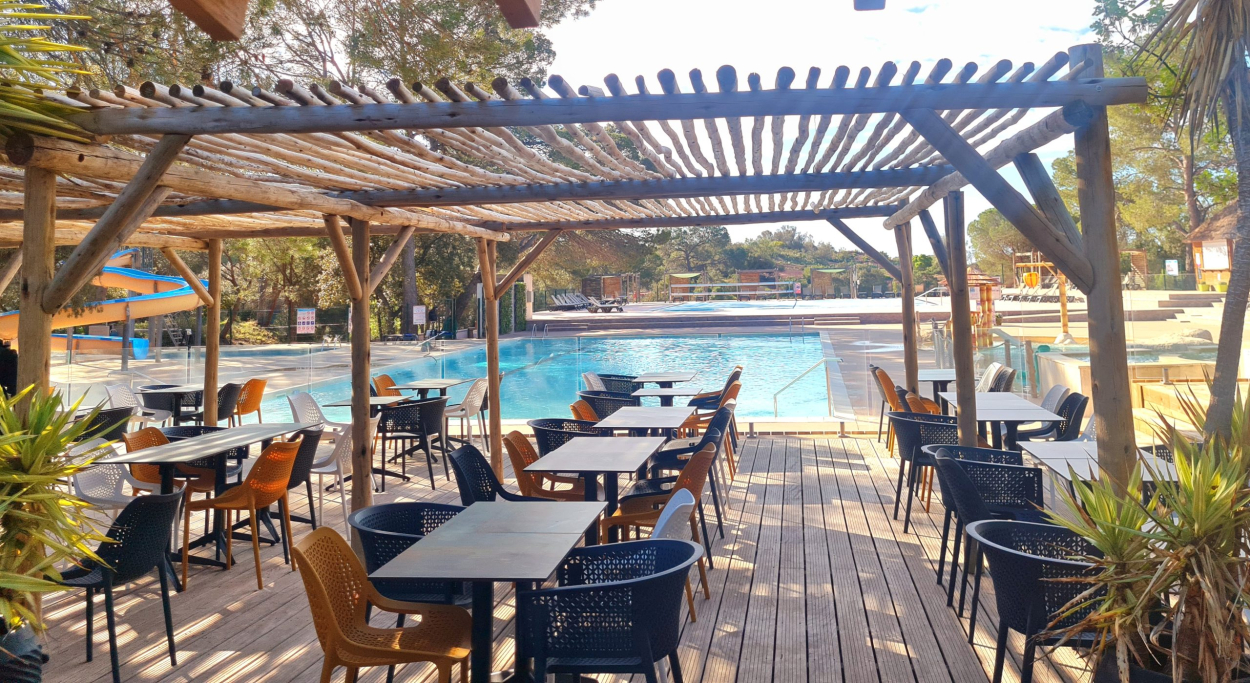 "Le Tranzat": the swimming pool snack bar
The essential freshness break
On the swimming pool side, the Pierre Verte campsite has a very large snack bar with a beautiful terrace facing the aquatic area. Ideal for all your munchies from morning to evening, the "Tranzat" is open every day. Fresh drinks, sandwiches, paninis, salads, chips, ice creams, aperitif time… everyone can take a relaxing break on the "Tranzat" terrace facing the azure blue of our pools.
In 2023, our swimming pool snack bar has been completely refurbished:
A new shaded wooden terrace, ultra trendy furniture, a new barrier for a total transparency on the pool, a new menu with a table service on plate + 2 new corners*.
* To start the day, you can sit on the terrace or on the new CHILIENNE ZEN CORNER perfect for a #cofeetime! Or another thirst-quenching drink!
* For your EVENTS apéro time, party crêpes, birthdays, an XXL Space in #partagestonbonheur mode with a table for 16 to 18 people has been created.
This space is only on reservation, 24 hours before (Apéro time: from 6pm to 7.30pm max).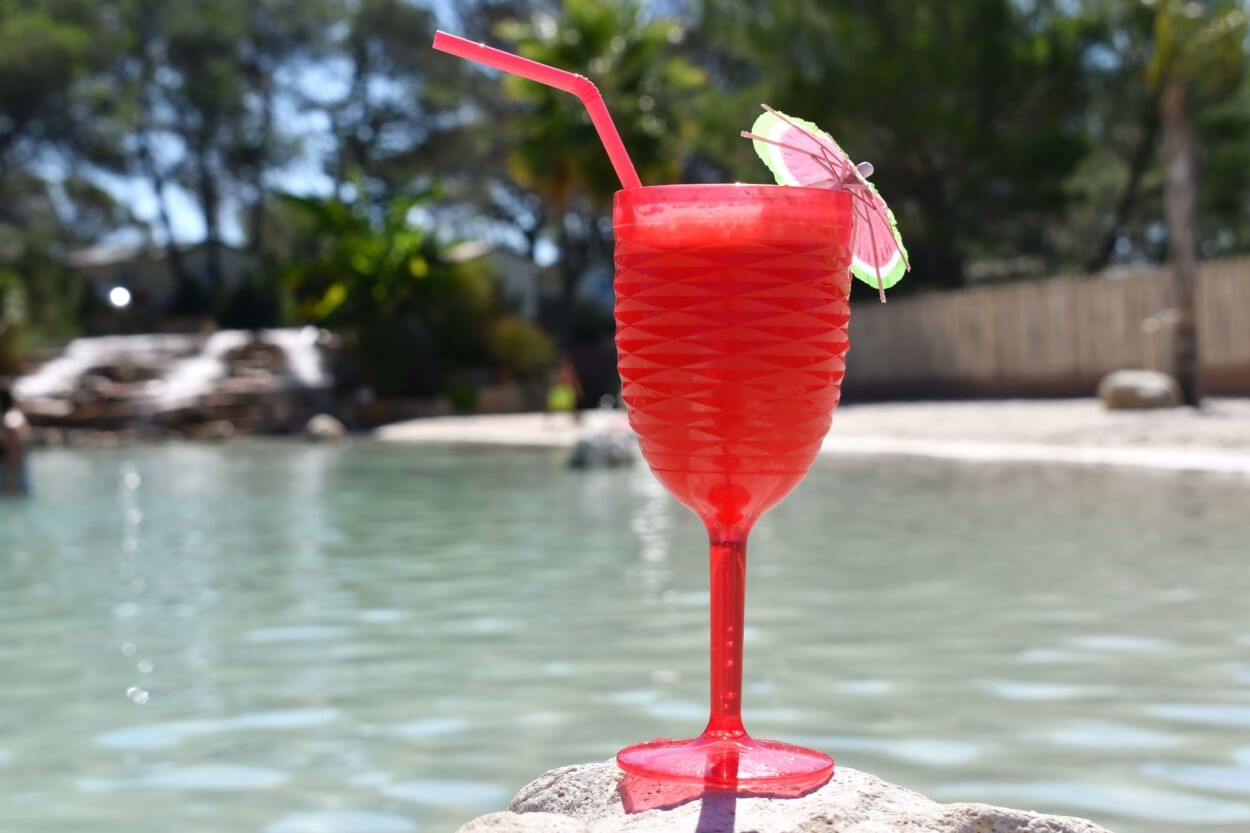 The Crusoe Juice Bar
Exotically yours!
Our Crusoe Juice Bar is the place to be in the Crusoe Chic zone. With natural fruit juices, cold drinks, smoothies and ice cream, our juice bar offers the chance for a refreshing break in the heart of our countryside campsite. Tables and chairs in exotic woods are available for customers, all under sun sails so you can quench your thirst in the shade.
The Juice Bar is also the location of our Apéro Potes meetup nights (July, August and September), from 6.30 pm to 9 pm. These pre-dinner drinks are brought to life with live music in a lounge atmosphere. It's also a great time for a little evening dip in the pool.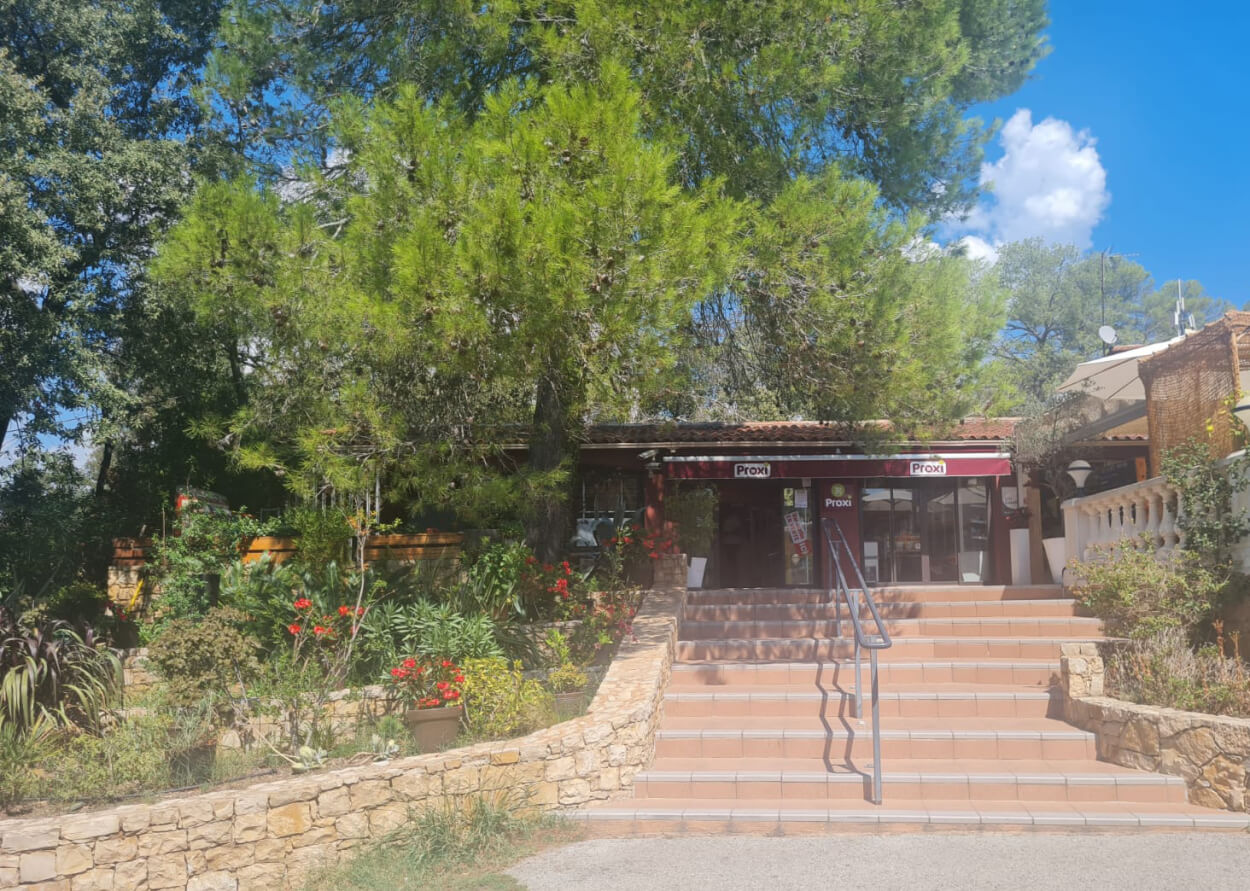 Convenient shopping
A shop with a wide range of products
Need to do a bit of shopping on site? Looking for something to tide you over? Bread or pastries for breakfast on the terrace in the sun? Our self-service food shop and cooking area is the perfect solution, so there's no need to drive anywhere and can stay and relax at the campsite. This local shop also has a press and bric-a-brac area, as well as all sorts of food products
Opening hours
Snack bar: "Le Tranzat
In high season: 9.30am – 7.30pm. In low season: 11am – 6pm.
Juice bar: "Le Krusoé"
April: 2pm – 6pm
May & June: 11am – 6pm
July & August: 10am – 7pm
Bar & restaurant : "Lou Gaudina
Low season
Breakfast : 9am – 10.30am
6pm – 10pm
Weekend
Breakfast : 8.00 am – 10.30 am
11am – 1.30pm
6pm – 10pm
July & August
Breakfast : 8.00am – 11.00am
12:00 – 14:00
6pm – midnight
Take away : "La Margarita
July & August : 5pm – 11pm
Grocery shop : "Le Proxi
Low season :
8:00am – 12:00pm & 5:00pm – 7:00pm
July & August :
7.30am – 1pm & 3pm – 8pm