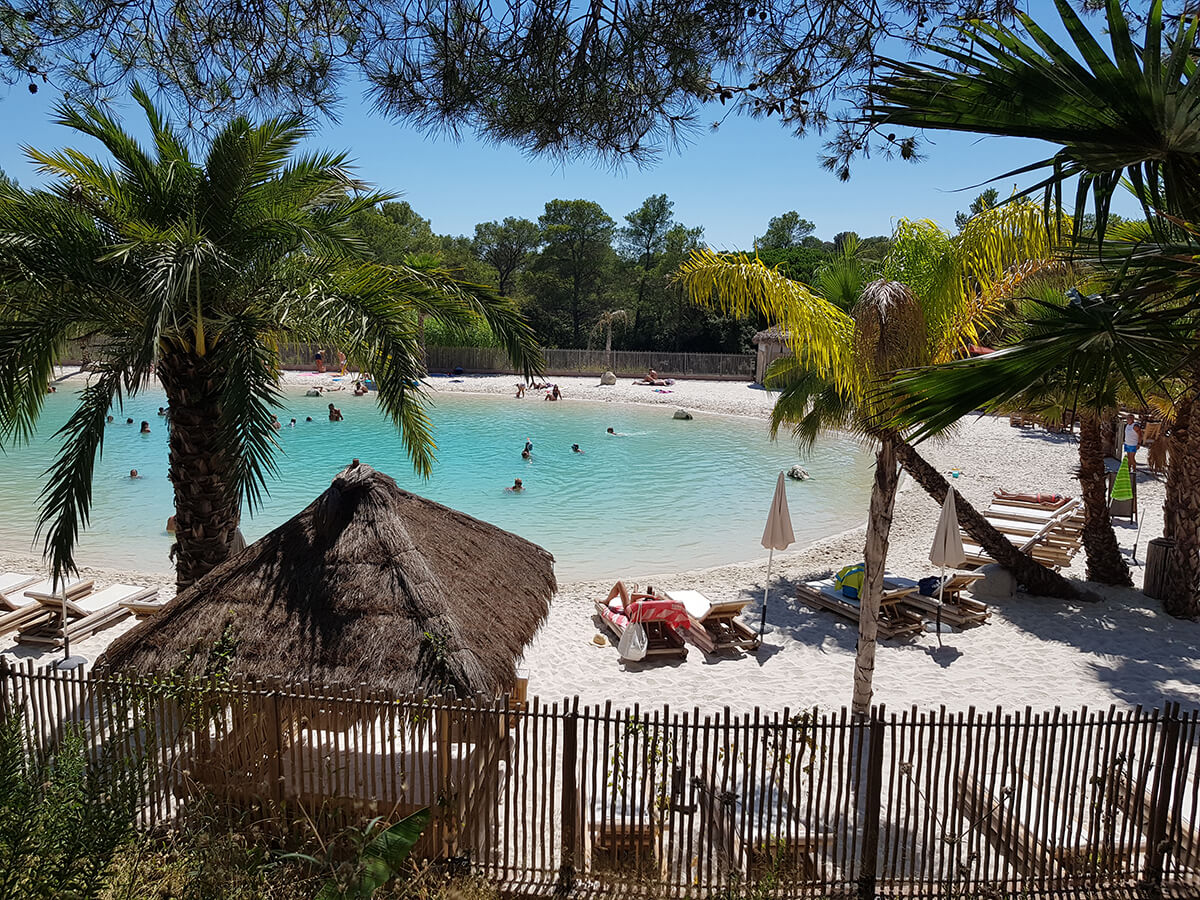 Our beach lagoon
A space dedicated to zen
With 1,200 m2 of water and 1,200 m2 of white sand, our beach lagoon will make sure you leave your troubles far behind you. True paradise for all the family! You'll feel like you are in a campsite next to the sea! With spacious banks and a depth of 1.5 m, it is the perfect place to sunbathe, swim in turquoise water and play with the kids on the white sand! Like the water park, our beach lagoon is supervised by a certified lifeguard. With a gentle slope and purified water filtered using 100% environmentally friendly methods, our beach lagoon blends perfectly into its natural setting. Which is a key priority for our certified "Clef Vert*" holiday village. Palm trees and other exotic plants, as well as a beautiful waterfall add an extra dose of authenticity to the Crusoe Chic zone.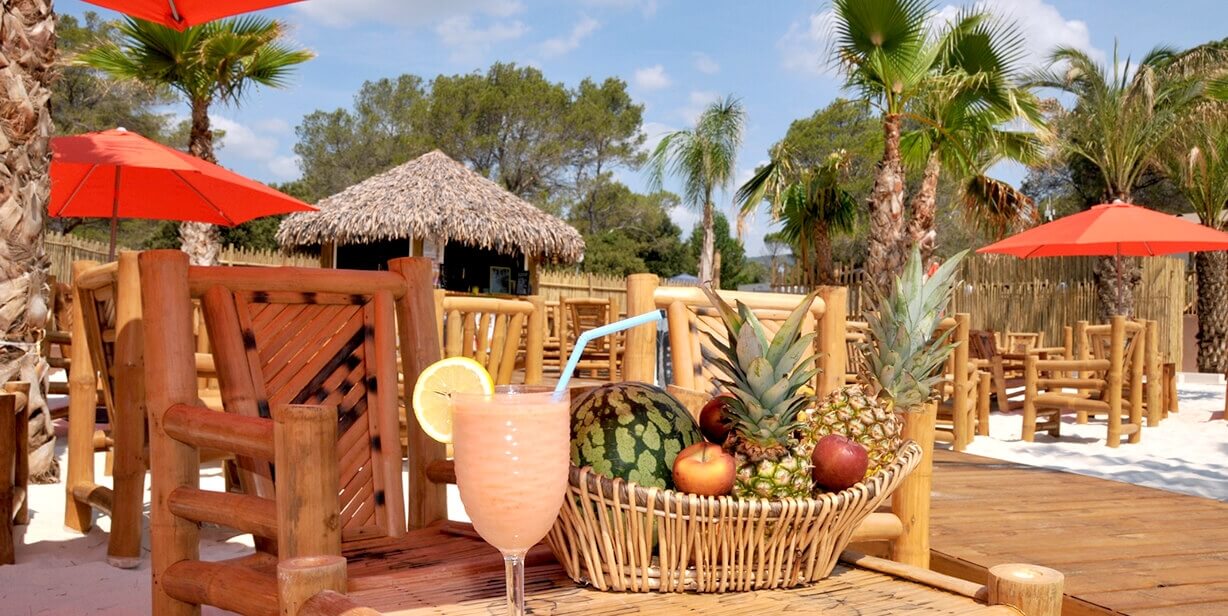 The juice bar
The place to be!
Our Crusoe Juice Bar is the place to be in the Crusoe Chic zone. With natural fruit juices, cold drinks, smoothies and ice cream, our juice bar offers the chance for a refreshing break in the heart of our countryside campsite. Tables and chairs in exotic woods are available for customers, all under sun sails so you can quench your thirst in the shade.
The Juice Bar is also the location of our Apéro Potes meetup nights (July, August), from 7.30 pm to 9.30 pm. These pre-dinner drinks are brought to life with live music in a lounge atmosphere. It's also a great time for a little evening dip in the pool.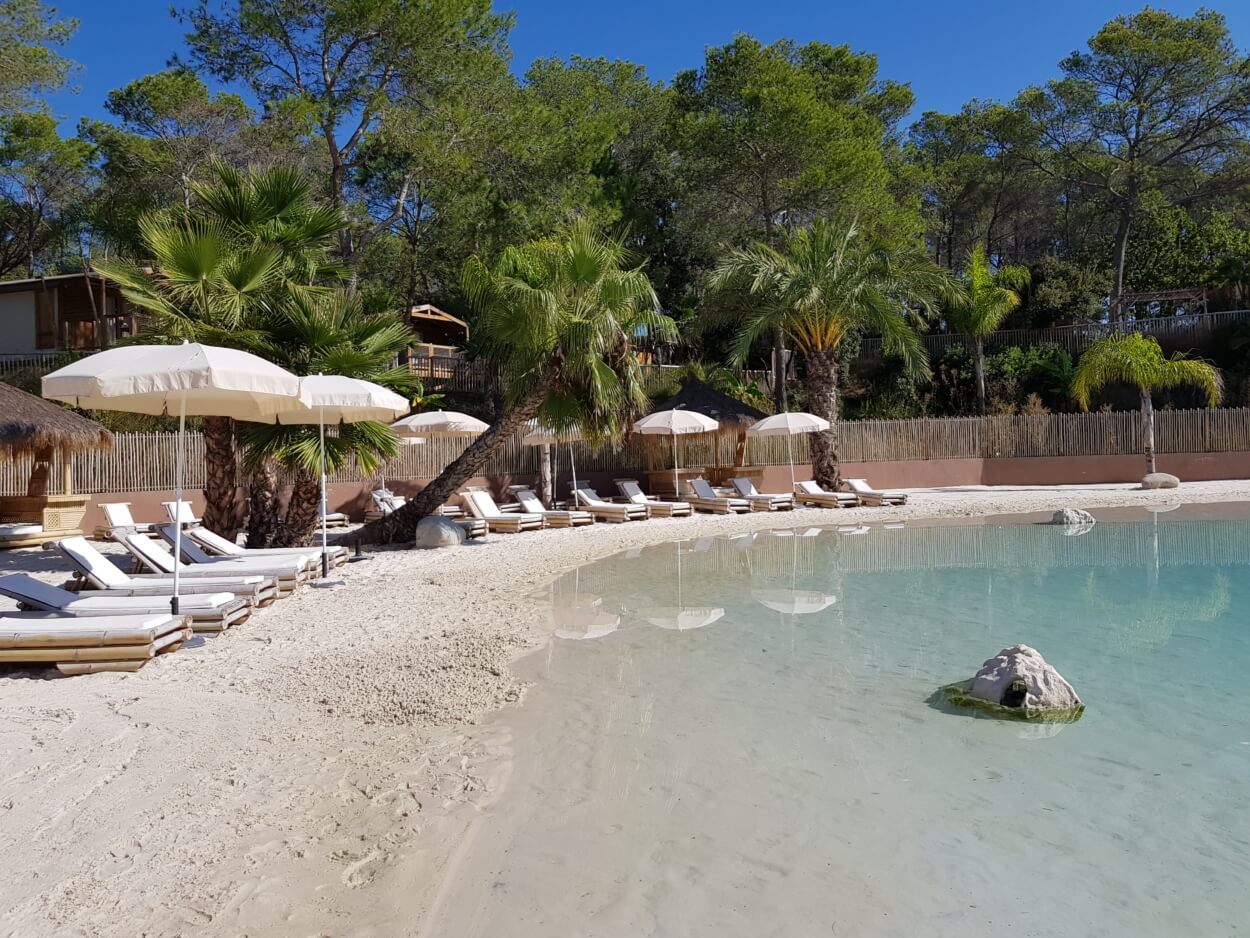 Our VIP area
Relax in complete comfort
Deckchairs and armchairs in exotic woods are available for rent on the banks of our beach lagoon. You can book them at the juice bar. For a half day or a whole day. Relax in complete comfort, surrounded by an intensely invigorating and luxurious natural setting.
See prices
Our massage zone
Relax every inch of your body
To really recharge your batteries, discover our massages specially created for our four-star holiday village (*paid services). Fans of lounging will love our zen massage area with its range of Robinson Crusoe Island body treatments for men and women, the perfect way to recharge your batteries in the shade.
See the menu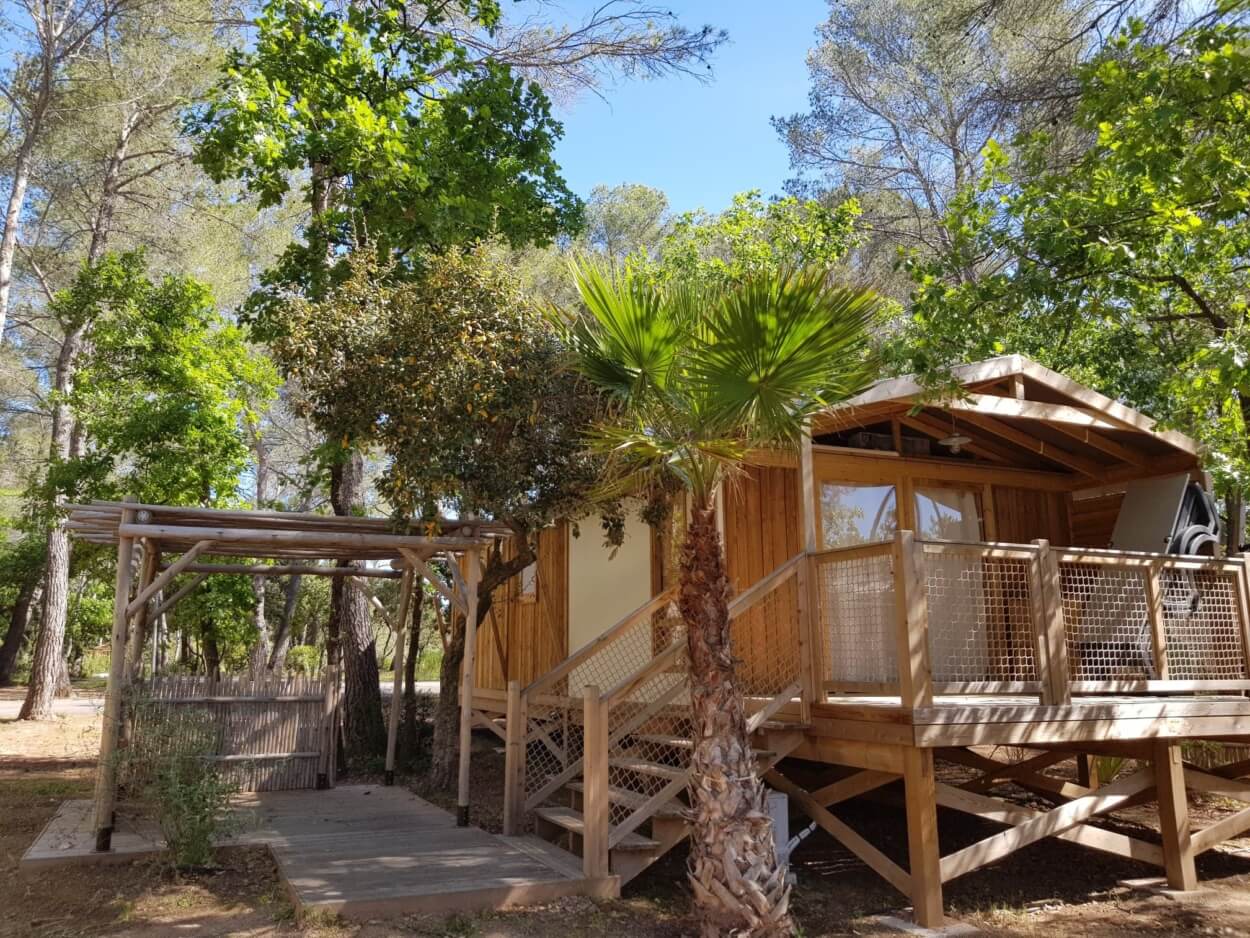 Our lodges on stilts
Luxury, calm and charm!
12 stunning luxury lodges on stilts overlooking the lagoon, 8 with a view of this magical Eden. A warm and cosy setting guaranteed!
Voir nos lodges
Environmentally friendly management
Our campsite in Fréjus on the Côte d'Azur is a natural campsite. Staying at a establishment ensures that the environment is respected at that location, and that environmentally friendly practices are promoted throughout the tourism industry.
Good water, energy and waste management, as well as a policy to use environmentally products are the key pillars of an approach designed to preserve our natural setting. A set of rules are also in our place to preserve the quality of our natural beach lagoon and its fragile water and sand.
Crusoe Chic Zone opening hours
Lagoon opening hours
Early May
LOW SEASON: 11 am – 6 pm
HIGH SEASON: 10 am – 7 pm
Your La Pierre Verte wristband must be worn to access the lagoon. Visitors are not allowed in the lagoon, in order to prevent overcrowding.